As I'm sure most of you know by now, it's Banned Books Week and I'm running a series of blog posts discussing the banning of books to celebrate the event. In the first post, on Monday, I kicked off the series with a short post about the event as well as how and where books are being banned. The second post demonstrated why the banning of books is such a problematic practice with an excursus on an ugly chapter in world history and the third post continued the series with a look at the not-so-noble nature of the reasons behind the banning of books.
While the last post focused on the bans targeting diverse content, this time I want to discuss the reasons that have to do with people in their birthday suits and what they might do together.
[tip: if you're offended by the big bad word s-e-x, you better not read this post. Of course you may also read it and then issue a formal request at the next library to ban my post on their computer networks.]

According to data from the ALA, "sexually explicit" content was the most frequently cited issue when books were challenged over the past decade (2000-2009). "So what?" you say. "Does the local library really need erotica novels?" Maybe not.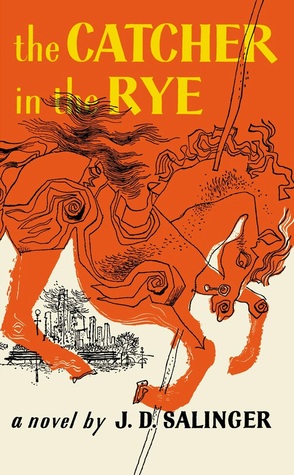 Oh, you're wondering why I randomly inserted these rather recent YA novels, commonly assigned school readings and children's books and what they all have in common? Well, these are the erotica novels you spoke of before.
All of these books have been challenged for "sexually explicit" content. I have only read three of them so far – Looking for Alaska, The Perks Of Being A Wallflower and The Catcher In The Rye – but I can't remember coming across any shocking, graphic, explicit sexual scenes in them. Of course you may correct me if I'm wrong.
Then again, after a bit of research it seems that the "sexually explicit" content in In The Night Kitchen was simply nudity (for which it was also challenged).
Yes, nudity. It's actually a rather common reason for books to be challenged as you can also see in the word cloud above. NUDITY! The most unnatural thing in the world – naked bodies. That clearly has to be forbidden. (sarcasm off)
I mean, really now, what is so offensive about that? As a drawing in that kind of style no less? What do you want to protect people from? Nature? Reality? Anatomy?
No? Okay, if you say so. Let's look at some more books that have been challenged because of "sexually explicit" content.
These don't look like erotica novels to me. Well, maybe we should take another look at the word cloud from the ALA. More specifically, at what it says right next to nudity – it might be a bit smaller, but it's a still a frequently cited reasons when books are being challenged: sex education. I repeat: sex education. Since when is education a bad thing?
In fact, I think the USA needs more sex education and not less. Because right now there definitely isn't enough of it, as evidenced by these figures:
In 2011-2013, more than 80% of adolescents aged 15–19 had received formal instruction about STDs, HIV or how to say no to sex. In contrast, only 55% of young men and 60% of young women received formal instruction about methods of birth control. (source: guttmacher.org)
Don't be fooled by those 'more than 80%' at the beginning. To clarify, the formal sex education of the majority of adolescents consisted of being taught to stay abstinent and what were probably horrifying tales about STDs meant to act as a deterrent. An astonishing 40% of young women and 45% of young men were not taught about contraceptive methods.
This method doesn't seem to be very effective considering that around 82% of teenage pregnancies are unintended. And while the over all teen pregnancy rates might be on the decline, they are still incredibly high compared to other industrialized nations. (data source)
Guess what the Netherlands, Germany and France are doing differently from the US? That's right – sex education!
In the Netherlands for example, sex education is mandatory and starts as early as kindergarten. In those early days, the program aims to lay the foundation that will later enable the children to have open conversations about love and relationships and, eventually, sex. PBS describes the overall principle of the program in an article on the same like this:
Sexual development is a normal process that all young people experience, and they have the right to frank, trustworthy information on the subject.
Does that remind you of something? Because it very much reminds me of the title of one of the books challenged for featuring sex education: "It's Perfectly Normal: Changing Bodies, Growing Up, Sex and Sexual Health".
So why do not all young people in America have the right to frank, trustworthy information on the subject?
If you're a parent and worried about your teenage daughter having sex when she's not ready for it, I'm going to tell you a secret. Your teenage daughter will find a way to have sex if she wants to. Telling her it's 'forbidden' might even increase her desire to do it. In any case, it won't lessen it. So don't you think it would be better to make sure she's adequately prepared for it by properly educating her about it? And, you know, openly talking to her about it might actually help to make her wait for the right person.
If you're a teenager and you're not receiving adequate sex education in school and don't feel comfortable asking your parents about it, here are some helpful resources:
Planned Parenthood – Info For Teens
sex, etc. -by teens, for teens
I mean, who am I kidding? This is the internet. And there are smartphones. Teenagers these days have probably seen more pornographic material already than some parents in their lifetime. Not that porn is good educational material. But this is definitely another reason why the banning of books for nudity or fleeting mentions of sex or masturbation is ridiculous. All of these books are absolutely innocent compared to what kids are exposed to elsewhere.
So let's leave the books alone. And to the parents who are still worried about the books your children read because you feel like they aren't ready for the content – keep an eye out for the last post in this series on Sunday. In the meantime:
UPDATE: Due to not having access to wi-fi today and being away for the rest of the weekend, I unfortunately have to cut the series short and end it here. I'm very sorry about that and very disappointed myself. I'm considering writing what was supposed to be the last post in this series as a regular discussion post next week though. In the meantime, thank you all for the supportive comments in this series 🙂 & of course:
ADDITIONAL READING:
Review: The Absolutely True Diary Of A Part-Time Indian* by Jackie @ Death by Tsundoku

Top Ten Stupidly Banned Books by Lilyn @ Sci-Fi & Scary
Banned Books Week: Winnie the Pooh** by Lost In A Good Book
*frequently challenged for "sexually explicit" content
**Pooh: "inappropriately dressed"
---
Are you participating in Banned Books Week? What do you think about banning books?
Have you read any of the books mentioned in the post above?