Top Ten Tuesday is a meme created by The Broke and The Bookish. As the name suggests, posts feature a themed Top Ten list. To join in on the fun, you just need to link back to the creators' blog where you can also find the topics for the upcoming weeks and post your own list. 
Don't forget to take some time to check out other people's posts as well! 
---
[Clicking on an image of a book cover will take you to the book's goodreads page!]
1. For Whom The Bell Tolls by Metallica
This was one of the first songs that came to mind and is, of course, based on the novel of the same name by Ernest Hemingway. It specifically alludes to a scene from the book in which five soldiers are killed in an airstrike while on a hill.
a look at the lyrics:
"On they fight, for they're right, yes, but who's to say?
For a hill, men would kill, why? They do not know
Stiffened wounds test their pride
Men of five, still alive through the raging glow
Gone insane from the pain that they surely know"

2. Boot Stomping On A Human Face Forever by Bad Religion
The title of this song is a direct quote from George Orwell's influential dystopian masterpiece 1984. How influential this novel has been and still is, also becomes evident when you look at the huge amount of songs inspired by it. From David Bowie to The Offspring to Muse – this novel has a lot of fans in the music world.

a look at the lyrics:

"He knew better than to pull at a thread
They unravel like the thoughts in his head
He looked out; it filled him with dread"
3. Pet Sematary by The Ramones
This punk rock classic is based on the Stephen King novel of the same name and was originally written for its movie adaption after King, who is a big fan of the band, invited them to his home and gave them the book.

a look at the lyrics:
"Follow Victor to the sacred place,
This ain't a dream, I can't escape,
Molars and fangs, the clicking of bones,
Spirits moaning among the tombstones,
And the night, when the moon is bright,
Someone cries, something ain't right"
4. Catcher in the Rye by Guns'n'Roses
The song was released on the band's 2008 album Chinese democracy and, as evident from the title, references J.D. Salinger's coming-of-age classic of the same name.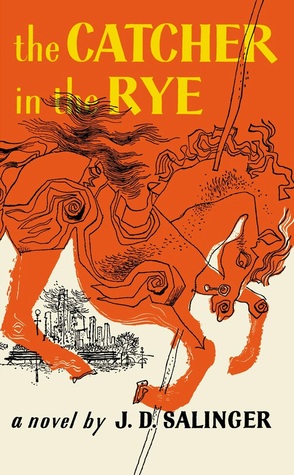 a look at the lyrics:
"When all is said and done
We're not the only ones
Who look at life this way
That's what the old folks say
But every time I see them
Makes me wish I had a gun"
5. Sympathy for the Devil by The Rolling Stones
According to Mick Jagger, inspiration for the song came from Mikhail Bulgakov's 1966 novel The Master and Margarita.

a look at the lyrics:
"Please allow me to introduce myself
I'm a man of wealth and taste
I've been around for a long, long year
Stole many a man's soul to waste"
6. Ultraviolence by Lana Del Rey
This one might be a harder guess, but the inspiration for this song comes from Anthony Burgess' masterpiece A Clockwork Orange (one of my favorite books ever which is why it also appeared in last Tuesday's post). In the dystopian novel, protagonist Alex and his friends commit various unspeakable acts which they also just call 'ultraviolence'. Classical music also plays a big role.

a look at the lyrics:
"I can hear sirens, sirens
He hit me and it felt like a kiss
I can hear violins, violins
Give me all of that ultraviolence"
7. Time To Dance by Panic! At The Disco
What can I say – as a teenager I really liked that band. And this song from 2005 happens to be based on Chuck Palahniuk's Invisible Monsters.

a look at the lyrics:
"Give me envy, give me malice, give me your attention
Give me envy, give me malice, baby, give me a break!"
8. The Phantom Of The Opera by Iron Maiden
And here we have a self-explanatory item for the list again. As obvious from the title, this song was inspired by the novel of the same name written by Gaston Leroux.

a look at the lyrics:
"I'm running and hiding in my dreams you're always there.
You're the Phantom of the Opera, you're the devil, you're just out to scare.
You damaged my mind and my soul it just floats through the air."
9. Lost Boy by Ruth B
I actually stumbled upon this song while looking for songs to add to this list to make it a bit more diverse when it comes to (music) genres. And I really liked this one. Maybe the title already gave you a hint – it's based on J. M. Barrie's timeless children's classic Peter Pan.

a look at the lyrics:
"He sprinkled me in pixie dust and told me to believe
Believe in him and believe in me
Together we will fly away in a cloud of green
To your beautiful destiny"
10. The Small Print by Muse
The last song for this week's Top Ten Tuesday list was actually inspired by a German classic – Johann Wolfgang von Goethe's Faust which centers around a deal with the devil.

a look at the lyrics:
"You're to blame
For all the life that you'll lose
And you watch this space
But I'm going all the way
And be my slave to the grave
I'm the priest God never paid"
*honorable mention. Breakfast at Tiffany's by Deep Blue Something
Sure, this song references the movie of the same name but that is an adaption of Truman Capote's novel. And I love that song!
a look at the lyrics:
"And I said what about Breakfast at Tiffany's?
She said I think I remember the film
And as I recall I think we both kind o' liked it
And I said well, that's the one thing we've got"
---
Do you know any of the songs on this list? Did you know they were based on books? Have you read any of the books on the list? Tell me what you thought about them in the comments!
If you're participating in Top Ten Tuesday, tell me which genre you chose for this week's list and leave me a link so I can check it out! 🙂